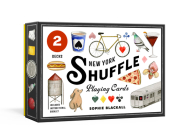 $16.99

We'll let you know if there's a problem getting this book
Description
---
A pair of professional-grade playing card decks featuring whimsical paintings of 52 quintessentially New York City characters and objects from two-time Caldecott winner and bestselling author Sophie Blackall.

In a New York minute, you can fall in love, find new dreams to chase, indulge in a new-to-you cuisine, and lose your wallet, if you're not careful. The streets of New York come to life in these 52 clever and colorful cards: mermaids, firemen, Rockettes, Central Park, pizza, pretzels, bagels, dumplings, hot dogs, and more. Accompanying the two charmingly illustrated decks of playing cards is a booklet offering the rules for classic card games. The fun is just as endless and unique as New York City in all her whirling, twirling wonder.
About the Author
---
Sophie Blackall has illustrated more than twenty books for children, including Big Red Lollipop, which was a New York Times Top Ten Picture Book, and the ongoing Ivy and Bean series, which has over a million copies in print. She won her first Randolph Caldecott Medal for illustrating Finding Winnie: The True Story of the World's Most Famous Bear and her second for Hello Lighthouse. If You Come to Earth, her most recently published children's book, has received wide acclaim. Her first book for adults was Missed Connections: Love, Lost and Found. She has created highly coveted limited edition holiday cards for the Museum of Modern Art, and her editorial illustrations have appeared in The New York Times, The Wall Street Journal, The Washington Post, Time, Gourmet, Food & Wine, Town & Country, and other publications.