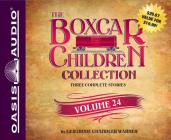 $34.99

We'll let you know if there's a problem getting this book
Description
---
The Mystery of the Pirate's Map: While on the beach at a seaside resort, Benny finds a bottle with a tattered piece of paper inside. When the Aldens find out that it's part of a map that leads to a pirate's riches, they prepare to search for the buried gold. But the Aldens aren't the only ones looking for the hidden fortune. Will they be the first to solve the mystery of the pirate's map? Aye, mateys, this might be the Boxcar Children's biggest adventure yet.

The Ghost Town Mystery: Grandfather has just bought a plot of land in the Rocky Mountains — complete with a ghost town! When the Aldens hear their land is haunted, they don't believe it. But when they see a ghostly figure on the main street, they know something's up. There's a mystery here and the Aldens are determined to solve it!

The Mystery in the Mall: The Aldens are helping out at Penny's Emporium, a novelty shop in the mall. But soon, everything starts to go wrong! Merchandise disappears, and doors start locking mysteriously. What's going on at the Hope Harbor Mall?
About the Author
---
The Boxcar Children series was created by Gertrude Chandler Warner, a teacher, when she realized that there were few, if any, books for children that were both easy and fun to read. She drew on her own experiences in writing the mysteries. As a child, she had spent hours watching trains near her home, and often dreamed about what it would be like to live in a caboose or freight car. In each story, she chose a special setting and introduced unpredictable, unusual or eccentric characters, to help highlight the Aldens' independence and resourcefulness. Miss Warner lived in Putnam, Massachusetts until her death in 1979.