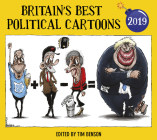 Out of Print - Not Available
Description
---
A hilarious companion to the year's political turmoil,featuring the work of Martin Rowson, Steve Bell, Peter Brookes, Nicola Jennings and many more . . .
If you thought that last year was a bit much, then just wait until you hear what politics is in store for 2019: Brexit (obviously!), general elections (possibly?), Kremlin bots (allegedly), border walls (supposedly), and much (perhaps too much) more. In Britain's Best Political Cartoons 2019, our finest satirists offer their takes on everything from Brexit confusion to Russian collusion, offering a hilarious tour through a tumultuous twelve months.
About the Author
---
Dr Tim Benson is Britain's leading authority on political cartoons. He runs the Political Cartoon Gallery and Café which is located near the River Thames in Putney. He has produced numerous books on the history of cartoons, including Giles's War, Churchill in Caricature, Low and the Dictators, The Cartoon Century: Modern Britain through the Eyes of Its Cartoonists, Drawing the Curtain: The Cold War in Cartoons and Over the Top: A Cartoon History of Australia at War.